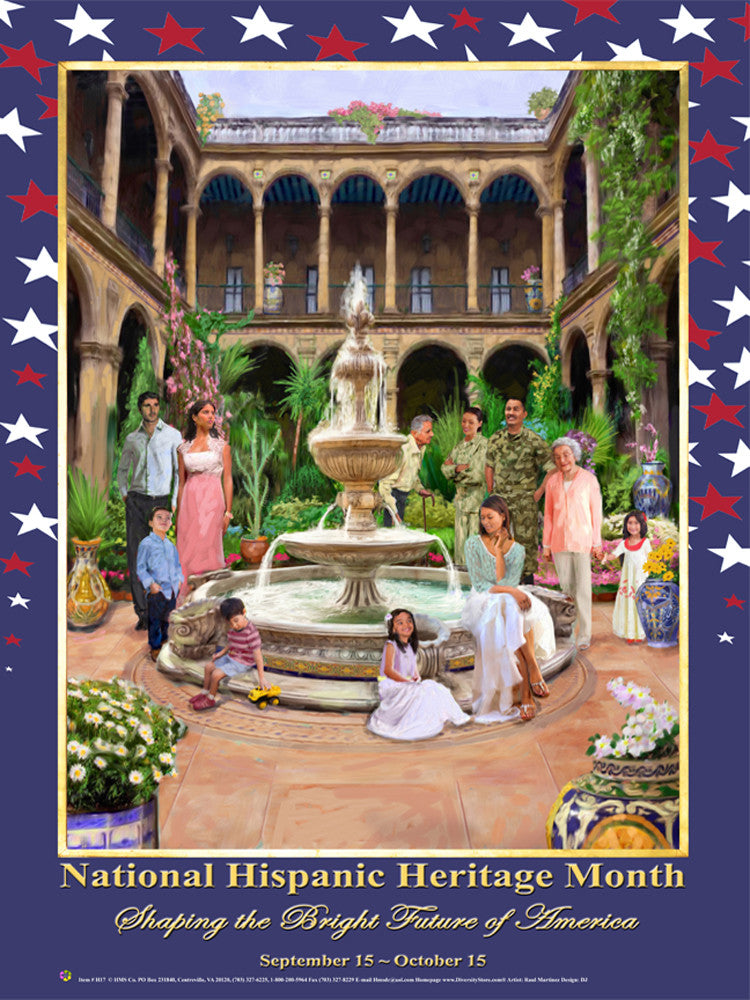 Item: H17 National Hispanic Heritage Month Poster Shaping the
---
Share this Product
{[{GetTitle()}]}
{[{item.Title}]}
{[{item.Price}]}
---
Item: H17 -   Shaping the Bright Future of America
Size: 18 X 24 inches
When and Why is Hispanic Heritage Month Celebrated?
National Hispanic Heritage Month is celebrated in recognition of the historical and cultural contributions of Hispanic Americans. This national observance was first established by Public Law 90-498, approved September 17, 1968 by the 90th Congress. Public Law 90-468 authorized the president to proclaim National Hispanic Heritage Week each year. On August 17, 1988, the 100th Congress enacted Public Law 100-402, which extended the observance from a week to a month. The annual observance is now a 31-day period beginning on September 15 and ending on October 15.
The months of September and October cover a wide range of independence days for Latin American countries. Costa Rica, El Salvador, Guatemala,Honduras and Nicaragua all celebrate their independence on September 15. Mexico celebrates its independence on September 16 and Chile on September 18. El Día de la Raza (Columbus Day) is observed on October 12.  For purposes of this celebration the term Hispanic includes persons with ancestry from the countries of Argentina, Bolivia, Chile, Colombia, Cuba, Costa Rica, Dominican Republic, Ecuador, El Salvador, Guatemala, Honduras, Mexico, Nicaragua, Paraguay, Panama, Peru, Puerto Rico, Spain, Uruguay and Venezuela.  The theme for Hispanic Heritage Month is selected by the National Council of Hispanic Program Managers with the help of a wide variety of contributions from all interested parties.
However, employee groups often include other Latin American countries during the celebration. This is, Caribbean and South American countries such as Brazil, Belize, the Virgin Islands, etc.