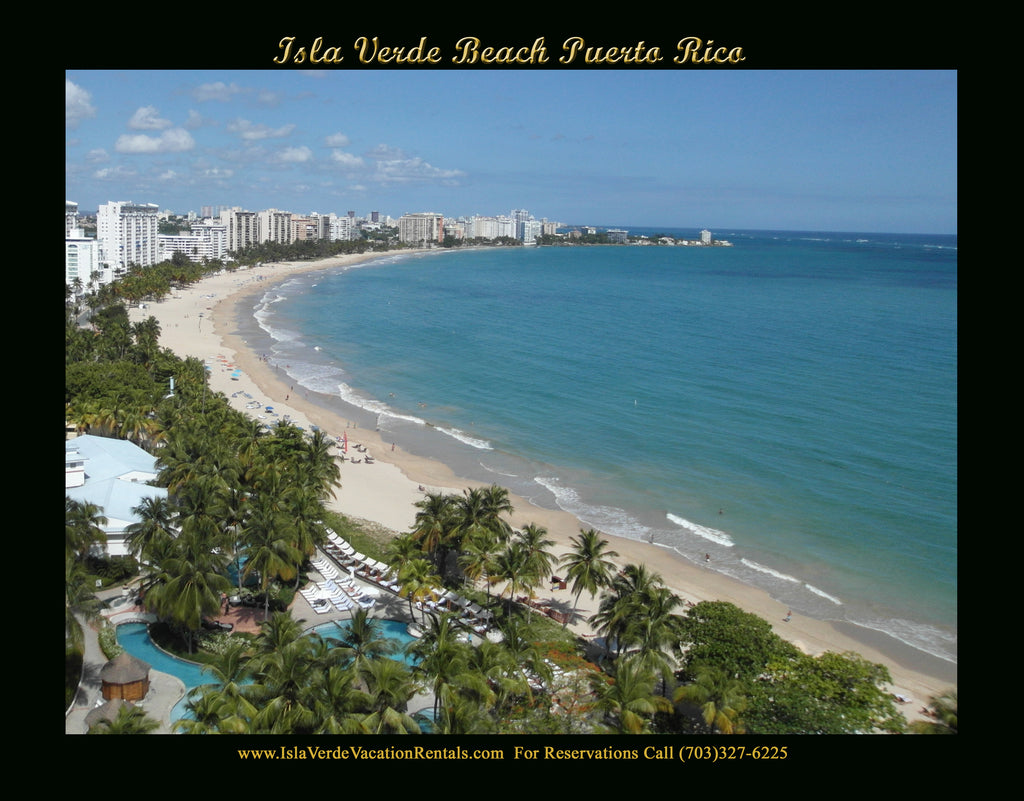 Isla Verde Views Studio Penthouse - From $90 a night - Email or Click Below for rates- Isla Verde, Puerto Rico
---
Share this Product
{[{GetTitle()}]}
{[{item.Title}]}
{[{item.Price}]}
---
For more information call 1-800-200-5964 or email hmsdc@aol.com
Email for rates.
For Reservations, a $150.00 deposit is required

Penthouse Studio with king-size bed, full-size sofa bed and single sleeper, Equipped kitchen,  Cable 40" Sony flat wall-mounted TV, high-speed Internet, DVD, Large balcony, AC, Phone, and Free parking. Located on the BEACH at the ESJ Towers just 5 minutes from the Intern'l Airport and next door to two Resort Hotels with Casinos...the San Juan Intercontinental Hotel and the  El San Juan Resort Luxury Hotel & Casino. Amenities include a large pool, sauna, gym, 24-hour business center, billiard, ping pong and game room, mini market and restaurant in Lobby, 24 hours security, and Reception Desk.
We provide linen and towels. Within a short walk to Chili's, Pizza Hut, Church's Chicken, Burger King, Subway, Ponderosa, Baskin-Robbins, KFC, Dominos Pizza, Taco Bell, Wendy's, Walgreens, Fresh Food Supermarket, Chinese Restaurant and Mi Casita and Metropol Restaurant serving favorite Puerto Rican delights. Great for a Romantic vacation in tropical, sunny Puerto Rico. Comfortable for two to four NONSMOKING persons, no pets.  Call for rates.   A $200.00 refundable security deposit is required and a $70.00 cleaning fee. All rentals are due 40 days prior to the arrival date. You may charge your vacation to your Visa, MC, AE, or Discovery credit card. Call 1-800-200-5964 for available dates or send an email to hmsdc@aol.com.
Review:
We stayed in the Magenta Penthouse and loved it!!!
Review Submitted: August 12, 2011 Date of Stay: July 2011
The view was beautiful from our condo and it was very clean. We were pleasantly surprised to have a few goodies in the kitchen and the bathroom was stocked with some supplies also. Metropol is an awesome restaurant within walking distance as almost everything is. We rented a car only so we could visit with my husband's family and to go to his 30th HS reunion. The parking garage was free and we enjoyed the pool and beach daily!! Our only confusion was the wireless Internet, we thought it would be in our room but it is available at the hotel but through AT&T for $12.95 for 24 hour use. That is what the Front Desk person told us but we would still recommend this property and we will definitely be back on another vacation!!
Owner's Response:


Thanks so much for taking time to review our Magenta PH Studio! I hope you come back in the near future. The ESJ Towers has a Business Center in the Lobby where you can use the Internet by minutes instead of the 24 hour charge. The last time I checked it is at 35 cents per minute which is not bad for just checking your emails. Of the four studios, the Magenta is the only one where we do not provide free Internet...if you plan to take your laptop next time make sure you let me know so you can use one of the other studios. Hope to hear from you soon!
A little piece of Paradise
Review Submitted:
October 8, 2009
Date of Stay: July 2008
Our stay at this cozy penthouse was simply Paradise. We were provided with an extremely clean and well equipped atmosphere. The bed was very comfortable and we were able to make a few meals in the kitchen as well as enjoy places to eat in the surrounding area. The location is good too. We were right there by the casinos for our nightly entertainment and when we wanted to chill we sat out on the patio and enjoyed the breath taking view. I would definitely recommend this property to a friend. We met lots of friendly people who stayed at ESJ Towers and the privacy is outstanding. It is always a bonus to not only enjoy this little piece of paradise but also feel 100% safe as well. Our vacation here was 100% positive and well worth the money.
Review Submitted:
January 1, 2009
Date of Stay: December 2008
My wife and I just returned from 9 marvelous days and nights in San Juan, made better by our accommodations at this nice, clean and comfortable studio. Besides the truly spectacular view of Isla Verde's beach from the balcony, the apartment has everything that the advertisement says it has. Our only regret is that we rented a car when none was needed. The building is less than 5 minutes from the airport. Everything we wanted or needed was close by or very near: from all type of restaurants, casinos and a drugstore to a modern, well-stocked "Pueblo" supermarket.
We plan to return at the same time next year, but for 14 days.