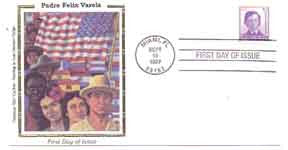 Padre Felix Varela - First Day of issue Stamp
---
Share this Product
{[{GetTitle()}]}
{[{item.Title}]}
{[{item.Price}]}
---
Product #: FD
Padre Felix Varela - First Day of issue Stamp
This collector's item was issued on September 15, 1997 to commemorate Hispanic Heritage Month. It is now over 10 years old!
The stamp features the social reformer Father Felix Varela.  This first day of issue envelope also features our 1997 poster art by the famous Puerto Rican artist Cajiga.
FOR IMMEDIATE RELEASE
May 12, 1997
Stamp News Release Number 97-043
SOCIAL REFORMER PADRE FELIX VARELA
TO BE HONORED ON U.S. POSTAGE STAMP
 WASHINGTON - Padre Felix Varela, whose 30 years of humanitarian works in the U.S. earned him high esteem here and abroad, will be honored later this year with the issuance of a new 32-cent commemorative stamp. The stamp art will be unveiled August 1 at a ceremony held in St. Augustine, Fla.
 "Padre Varela dedicated his life to the service of others, especially young people, the sick and the poor," said Dr. Tirso del Junco, chairman, U.S. Postal Service Board of Governors. "He was considered a great defender of liberty, but above all, an exemplary priest, who led his ministry in New York City for more than 20 years."
 In the early 1820s, Varela concentrated his efforts on helping poor minorities living in New York City, and founded nurseries and orphanages for the children of poor widows. He organized the New York Catholic Temperance Association, and virtually lived in hospitals while caring for cholera victims during an epidemic in 1832. As a result of his abilities and dedication, Varela was named Vicar General of the New York diocese.
 Varela also founded the first Spanish newspaper in the U.S., publishing articles about human rights injustices suffered by minorities, as well as essays on religious tolerance, cooperation between English and Spanish speaking communities, and the importance of education.
 Before coming to the U.S., Varela, who was born in 1788, was named Professor of Philosophy of the Seminary of San Carlos in Havana, Cuba, where he quickly distinguished himself as a great educator. During his professional career, Varela introduced numerous innovations in teaching and defending the principle - then considered strange - of giving women the same education as men.
Varela spent his last years in the city of St. Augustine, Fla., where he retired due to illness. He died in 1853, but his legacy endures, as two foundations named in his honor carry out his work in Miami and New York.
 First day of issue ceremony details and other information will be released as soon as they become available.